We will be making bookmarks this month for Wheeler Mission.   We gave them a bunch last December, and they loved them!  The women laid them out on a table so they could look at all of them in order to choose which one they wanted.
Our Crafting Workshop is on May 2nd this month, from 9:30 to 2:00!  Please note that this is the first Saturday – we changed it because of Mother's Day on May 10th!  Bring all your materials and supplies for your projects, plus your lunch!  We will be continuing Color Theory Part 2 this month – we don't want anyone to miss it!
Also, please bring blankets for Mother's Day for the Baby Dedication – the Moms love them, and have fun choosing which ones they like the best to take home.  Afterwards, we will be giving the rest of the blankets to Life Centers.
Please continue working on:
* hats & scarves for several different ministries, including our Food Pantry
* shawls, lap blankets, heart pillows, and chemo caps for Riverview Cancer Center
* baby blankets for Life Centers & Hazel Dell's Baby Dedication
* Bookmarks (we're doing those this month!), Tote Bags and Pillowcases for Wheeler Mission! We will have "Marathon" Workshops in July and August for Tote Bags and Pillowcases.  That has been so much fun!  We have new ideas for them, and a completely revamp Tote Bag pattern.
Whew!  We have Scrapbook, Stitching Cards, Crochet and Fabric Bookmarks – who knew there were sooo many different ways to make a bookmark!  Please come and join us!  Even if you don't have all the materials, come anyways – we bring extras!  Continue reading to see what to bring for the Bookmarks!
Color Theory
We rescheduled Part 2 of Color Theory for May so you wouldn't miss this great Lesson!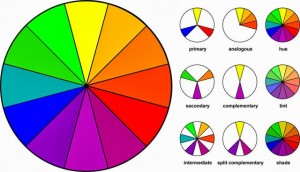 How do I use the color wheel to select colors for my project? What does monochromatic mean? Analogous, what is that? In Lesson 2: Color and Color Theory – All about Color Schemes, we will be answering those questions and more. Be prepared to use your imagination and creativity!
What you will need to bring:
a pen or pencil
the Lesson 1 handout; if you do not have it, one will be provided
Bookmarks – Scrapbook Style!
Like a quilt, there are many ways to put bookmarks together. A stock bookmark will be provided: write a Bible verse, put on a Smiley face, and you have an easy bookmark. Or use different colors of paper, cut them out, & glue them together. Flat stickers can be added. If you have a cut-out you like, you can use colored paper to cut out your shapes to glue them on. Bring old cards, napkins with pretty patterns, even fabric scraps, ribbon or yarn.  Be creative!
I will bring tons of paper, cardstock, & multiple colors of markers. I will set up a couple of tables & give you some examples.  I also have devotionals with scriptures.
Here is what you need to bring:
* scissors & glue sticks
* flat stickers (it's difficult to laminate over thicker 3D ones)
* old cards, napkins with pretty patterns
* fabric scraps, ribbon or yarn
* your favorite scriptures and sayings
* your imagination!
Our finished products will he gathered up to be laminated.
Bookmarks – Stitching Card Style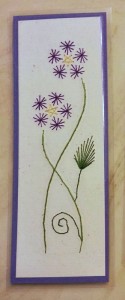 What is that, you say?  It's stitching on cardstock using hand embroidery thread.  There are some free patterns and instructions Here.  Even though it is designed for making cards, some of the narrower patterns would work for bookmarks!  Here's an example on the right:
Here is what you need to bring:
* hand embroidery floss – various colors
* 8 or 9 betweens hand quilting needle
* scissors & tape
* straight pins for poking holes
* craft foam & old magazines (for protection of table when poking holes)
* your imagination!
Bookmarks – Crochet Style!
Crocheted bookmarks made with yarn?  Is that even possible?  Yes, of course it is!  They can be as simple as a chain long enough to go from top to bottom of the book with a pom-pom on the end to more intricate lacy ones. And lots of pretty ones in between, too. We will also be making pom-poms in various sizes and colors to embellish bookmarks made using other media like fabric or paper.
Here is what you need to bring:
* small quantities of Group 4 worsted weight yarn and Group 3 baby/sport yarn in different colors
* a tape measure or ruler
* crochet hooks in sizes E/5, F/6, and G/7
* scissors
* large-eye yarn needle
* your imagination!
Bookmarks – Fabric Style!
In perusing the internet, I discovered there are many ways to make fabric Bookmarks – who knew!  Using scraps, you can make them plain, fancy, raw edge, fabric glued onto cardstock, and even serged!  You can decorate them with lettering, tassels, trims, and whatever your imagination desires!
If you would like to get a head start to work on them, or to see what kind of patterns are our there, take a look at these links: Here, Here, Here, Here, Here, Here, Here, Here, Here, Here, and then some so-sew ones Here.  I know there's a lot of them, but take a look at them – there's some really fun ones!  If you hover over them, you will see who's website they're from.
Here is what you need to bring:
* scraps of fabric – around 3″ x 9″, there's one pattern that uses even smaller 2″x3″ scraps!
* scraps of at least medium weight interfacing, fusible interfacing, or stabilizer – around 3″ x 9″
* matching or contrasting thread – we also have a supply of thread you can use
* ribbon (narrow, medium and wide), trims, lace, ricrac, yarn for tassels (see Crochet instructions above)
* 1.5″ wide pretty elastic (this is for two of the patterns, if you choose to make them)
* decorative scissors or pinking shears (for raw edge bookmarks)
* fabric crayons or markers, and maybe fabric paint if you wanted to decorate them more
* buttons and pompoms to decorate the bookmarks
* sewing machine
* your imagination!