OK, first, we have Baby Dedication coming up on November 8th!  If you are working on or almost finished with a baby blanket, please turn it in by putting it in the Donation Tote behind the Welcome Desk (which BTW still says HD Creative on it!).  Thank you for all the beautiful things you have made!
Next, we are planning on going to Wheeler Mission to distribute the tote bags, pillowcases and bookmarks in early December (date TBA).  We would love it if some of you would be able to join us; last year we had a wonderful time!  So we will need any tote bags, pillowcases and bookmarks to be turned in by Sunday, November 29th!
Starting later in December, we will be distributing hats & scarves to HDCC Food Pantry & local schools, and items to Riverview Hospital.
We have some new Lessons this month!  Come join us for our Crafting Workshop on Saturday, November 14th, from 9:30 am to 2:00 pm.  Bring your materials and supplies for your project, and bring your lunch!
Sewing
This month we are learning how to make a beautiful quilt called Mountain Majesties!  The pattern comes from Bonnie Hunter, (who loves to make quilts with scraps) and you can find it Here if you want to get a head start!  It looks complicated, but it's not!  You start with large half square triangles (we learned this earlier in the year), but then cut them up and rearrange the pieces.  There's also many ways to rearrange them to create many different patterns on your quilt, as you can see on the right!  You may use just a few fabrics, or use up scraps for a scrappy look.
** It's important for there to be a good contrast between the medium/dark fabric and the light fabric, as that's how the mountains will appear!  We have assorted fabric, including fat quarters.   Very few are light fabrics, so you may want to bring one or more light fabrics. Suggestions: white, off-white, cream, or light pastel in your choice of color.  The contrast is the key!!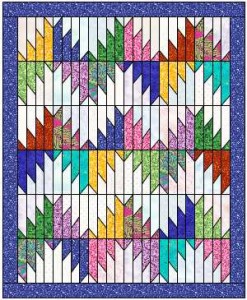 What you need to bring for a scrappy quilt:
1. 9 coordinating fat quarters of medium/dark fabric, or enough fabric scraps to cut out 18  8.5″ squares
2. 9 coordinating fat quarters of light fabric, or enough fabric scraps to cut out 18  8.5″ squares
3. about 3/4 yard coordinating fabric for the borders
4. about 1.5 yards each of backing and batting
5. thread, scissors, rotary cutter, cutting mat
6. sewing machine
If you would like to make one of just 2 fabrics, bring 1 3/8 yards each of a medium/dark fabric, and a light fabric.  You could also have scrappy medium/dark fabric, and just one light fabric!
Crochet
For the 'crochet stockinette stitch', if you can make half-double crochets, you can do this stitch. This works up well in the round. In rows, for the best result, work each row on the right side and fasten off at the end.  You may need to go up one hook size larger than what you typically use with worsted weight yarn. If your stitches are too tight, the fabric will be stiff.
What you need to bring:
1.  Two different light colors of worsted weight (Group 4) yarn
2.  Size H/8, I/9, and J/10 crochet hooks
3.  Scissors
4.  Large-eye blunt yarn needle
5.  Pencil and paper for taking notes