This month we're Thinking Outside the Box!  What does that mean?  Well, in sewing, we're making a different kind of bag, or purse, or tote – whatever you would like to call it!  You can keep it or give it away – your choice!  In crochet, we're breaking the rules!  What?!  Keep reading for more info.
As always, we will meet from 9:30 am to 2:00 pm.  Bring all your materials and supplies, and don't forget your lunch!
Sewing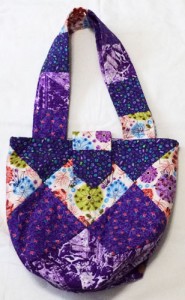 We are making a 'Schlep Bag' this month.  What's that, you say?  Well, a bag you 'schlep' your stuff around in – groceries, sewing or crochet projects; you can also use it as a purse!  Here's a pic of one that I made:
It's made it out of squares, and all straight seams!  We have an assortment of new fabric to choose from, too!  Let's have some fun!
What you need to bring:
*fat quarters of 4 coordinating fabrics (or scraps of 4 fabrics that you can cut four 8″ squares each)
*fabric for straps (one piece, or leftover scraps from the bag)
*additional fabric for lining (two 23″ squares of coordinating fabric)
*coordinating or contrasting thread
*lightweight batting (optional)
*sewing machine (we have 2 for you to use)
*rotary cutter, ruler, cutting mat, pins
*walking foot (optional – if you have one)
Crochet
October is another month of experiencing texture in crochet.  We are doing something totally different.  We will break the rules in crochet in this lesson – making knots, not weaving in tails, intentionally cutting perfectly good yarn into pieces, mixing different yarns together without checking to see if they 'play well together' first.  What?!  Oh, yes we will!
We will apply this new and unusual concept to making a winter scarf.  If you need yarn, we have a stash of it available.  We've also just gotten another donation with some fun colors!
What you need to bring:
*a total of about 7 ounces of worsted weight (Group 4) yarn:
-odds and ends of leftover yarn in worsted weight (Group 4)
-additional yarn in worsted weight (Group 4)
*crochet hooks in sizes G/6, H/8, and I/9
*scissors
We'll be having fun this month!  Please come join us, and bring a friend along!